"How To Go From
Zero to $1 Billion+ in Sales"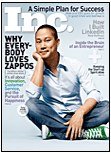 Here's exclusive video from the SOLD-OUT Underground® seminar of Zappos.com CEO, Tony Hsieh revealing what took his company to $1B in sales starting from scratch.
Attendees paid up to $3,495.00 to hear this presentation and now you can watch the entire thing for FREE!
What you'll discover inside this video:
How to put "fanatical" customer service to work in your business to truly create WOW! (Zappos.com enjoys 75% repeat business from their customers. This translates to lower marketing costs.)
How to maintain the culture and feel of a small company (where people actually LOVE to work) even when your growth is taking off like a rocket.
How to hire Super Stars! And much more...
Yes, Zappos.com is probably a little out of the league of our typical attendee – but that's exactly why you want to pay close attention and apply some of these amazing growth strategies to your business. Just enter your email address to the right and you'll receive this plus other top-secret Underground transmissions.