Note: Don't scan this too quickly, or you'll miss the big surprise!
Over the past week or so you've seen several excerpts from the Underground ® 6 Seminar, so you know I'm not exaggerating when I talk about how powerful this information can be.
But remember, these were just excerpts from 3 or 4 of my Underground "Agents" . . . can you imagine what still lies hidden from your view?
On Wednesday at noon, Pacific time, I'm going to give you a chance to get the recordings of the entire Underground 6 seminar.
Including the Susan Hill presentation that we had to remove earlier this week!
You'll also get the entire presentation given by Vishen, the entire presentation given by Bedros, and Andrew Lock's entire presentation too.
But that's not all! <grin>
There are NINETEEN DVDs — so you see that what I've shared with you this week has literally been the tip of the iceberg!
In addition to the 19 DVDs, there are 19 audio CDs, so you can listen to the presentations while you drive (going on any long trips this summer?), or copy them to your MP3 player.
And of there's also the printed manuals from the seminar!
Here's a picture of exactly what you'll get: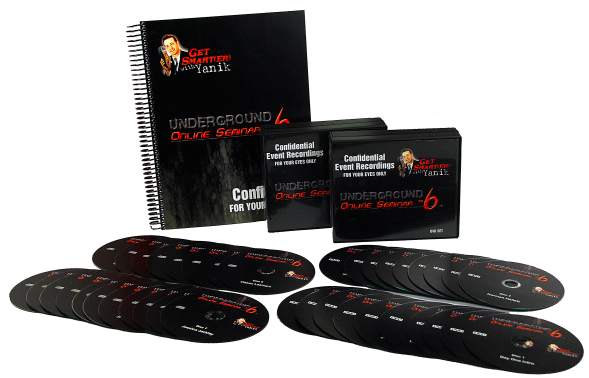 Now, my web guy is MOVING on Saturday, and won't be ANYWHERE close to his computer — so we're only going to be offering these recordings for 3 days (Wednesday through Friday).
AND, if you're one of those people who needs a little bit extra incentive to invest in your future, I've come up with just the thing!
I had my warehouse manager check to see if we had any recordings left over from previous Underground seminars — and lo and behold, she found 100 sets of audio CDs from Underground 2, and the printed manuals to go with them!
SO (surprise!), the first 100 people to get the Underground 6 recordings this week will also get the CDs and manuals from Underground 2!
I'm not going to go into the specifics of the agents in Underground 2 here, (I will tomorrow) — but like all Underground agents, they excel at generating huge sums of money on the internet — and I am CERTAIN your business will explode if you apply their lessons.
Well, that's it for now — remember, this starts at 12 Noon Pacific time on Wednesday, June 23.
We can only give the bonus Underground 2 recordings to the first 100 people (that's all we have!), so be right here tomorrow at Noon Pacific time!
Yanik