Sorry, You Missed It!

The $400 discount for the Underground 6 recordings has expired.
Though you won't be seeing this special price for this particular product again, keep watching your inbox for July's "Freedom Month" specials!
---
Warning! This Offer Expires at Midnight Tonight!
YES! The Underground 6 recordings are now available (through Friday), at a special
price and with a HUGE bonus to the first 100 people!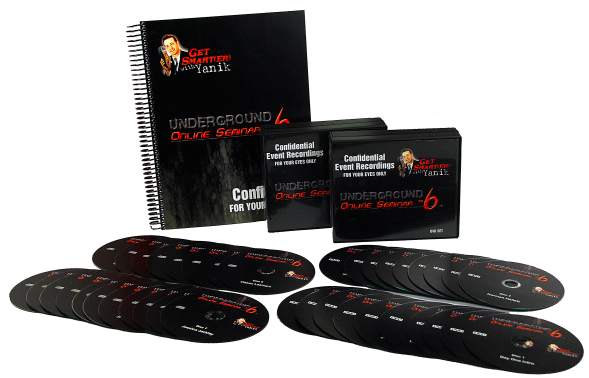 Your package includes the DVD video recordings, Audio CD recordings, AND the printed manuals from the seminar. As you can see, the theme color is 'black' — you can think of it as 'black gold'!
Note: My web guy is MOVING on Saturday, so this special offer is only good through Friday!
Now listen . . .
You don't need "convincing" about the quality of the information at Underground 6. You've seen the excerpts, and you know how powerful the shared strategies and tactics can be.
I'm sure if we were giving these away free, you'd snap it right up — because you KNOW it's good stuff! You know it is.
If you have confidence in YOURSELF, then you know you can apply these lessons and profit from them, and you don't need to read any further. You don't need to know the price, because you don't care — you know you'll make back 10X whatever it costs. Just click here and get the recordings now.
Now, if you're still reading, the question probably going through your head is something like:
"Can I get my money's worth from this information? Can I make back MORE than I'm going to invest in this knowledge, and can I do it quick?"
And my answer is, "It's entirely up to you."
That's not a cop-out, it's as honest an answer as anyone can give you. If you use these recordings as coasters and bookends, then of course they would be a bad investment.
But if you watch/listen to each one, taking notes as you go, stopping from time to time to ponder the new information you're receiving . . . now that's quite a different story!
I truly believe if you APPLY the lessons taught in these recordings, you can easily make 10X what you invest in them.
You've seen the 3 excerpts — now take a look at this short summary of all of the people who will be sharing their knowledge with you on these recordings:


Matthew, a BLIND Lute player who made over $600K in his FIRST YEAR!
And Matthew doesn't even know how to build a website . . .




Mary, who oversaw the meteoric growth (more than triple revenues in 15 months!) at "Early To Rise"!
And before that, she led Weiss Research from $11 Million in sales to over $67 million dollars in just 12 months! She'll share her covert direct response tactics … and show you how to leverage your current work load to obtain explosive profits by "channelizing" all your marketing campaigns.




Norman, a leader in sub-conscious instruction who operates a 7-figure business with NO employees and NO advertising.
You'll see how to apply his hugely successful model to your own business.




Susan, who went from $60/hr as a fitness trainer to a golf & fitness guru who runs a multi-million dollar Internet empire.
See how she completely dominates this very competitive niche, and how you can dominate your own through global outsourcing…




Bedros, the co-creator of the "Fit Body" boot camps and a consultant to some of the biggest names in personal training.





Matt, who bootstrapped his business to a multi-million dollar enterprise and one of the top 100 web sites in the world!
Matt has agreed to divulge every secret detail of his success … including how crowd-sourced content works … how you can make a killing with it … and how to then do it again and again by simply spinning-off from your original company.




Adam, who parlayed a unique software program (which he developed with his younger brother) into a 35 MILLION dollar company
that helps people "tune up" their computers!




Vishen and Mike, founders of MindValley, a multi-million dollar publishing and marketing company in the self-improvement field!





Greg, the wizard behind the two biggest launches in Real Estate history … and the top 'YouTuber' of all time!
He went from standing still to building a 8-figure business in just 2 years!




Kristal and Ben, specialists in database mining, underground world of cluster analysis, neural networks, psychographics, and sniper-precise geo-targeting.
They'll show you how to maximize your advertising (while saving 30-50%!) and pull more money from your existing customer base!




Alan, whose "little between-jobs project" selling PUZZLE PIECES has blossomed into a $2 Million/year business!





Jeremy, an inpsiration to anyone who's down-and-out, having pulled himself up by his bootstraps BIG TIME.
He went from being an out of work, $50K-in-debt-and-sleeping-on-his-friend's-couch sob story to making millions of dollars in the past 5 years with affiliate marketing and other underground internet ventures.

Plus our 2 keynote speakers:


Gary Vaynerchuk, one of the leading web 2.0 personalities and visionaries in the world, who gets 90,000+ DAILY viewers tuning into his wine rants at WineLibraryTV.com.
His passion and hustle lead to TV appearances, a 7-figure book deals, a new media company and lots more.




Jessica Jackley, Co-founder of Kiva.org, the world's first peer-to-peer online micro-lending website.
Kiva.org allows individuals to lend as little as $25 to entrepreneurs in the developing world, providing affordable capital to start or expand a small business.
In just a little more than 4 years Kiva has helped loan out over $100M and connected thousands of people across 120+ countries.

Plus there were some "extras", like Andrew Lock's resource presentation, and panel Q&A sessions.
After reading that list, can you even doubt you'll get $995 of value from the Underground recordings? No, the price isn't $995. Not today. That's the normal price though, and I think it's quite reasonable — in fact, it's a bargain.
But for this 3 day special, I've slashed the price by $400, so your investment is only $595. You can even get the recordings for 3 installments of $217 if you want . . .
And it gets better!
I'm not sure how it happened, but somehow I ended up with 100 sets of audio CDs and manuals from Underground 2 in the warehouse. So if you're one of the first 100 people to get the Underground 6 recordings, I'm going to throw in the Underground 2 recordings too!
So you're getting two for the heavily discounted price of one!
Just click here to get the recordings.
When you get them, start watching or listening to them. Just one presentation a day — that's an hour. Have you got an hour to invest in yourself each day? At one hour a day, you should know within a couple weeks if you're going to be able to APPLY what you're learning.
If at any time within 60 days you decide these just aren't for you, then by all means return them for a full refund!
It's worth a shot, don't you think?
Go ahead and click here to get the Underground 6 recordings
All the best,
Yanik
P.S. Remember, this special discount is only good through Friday, June 25, and only the first 100 people can get the Underground 2 audio recordings bonus!
P.P.S. If you have questions, please leave a comment here and I'll answer as quickly as I can!