Announcement: New Keynote Just Added!
Just hours ago we finalized and confirmed the 4th keynote speaker for Underground® 007 and you do NOT want to miss out on this one. A few of the accomplishments on this rogue entrepreneur's resume include...
His company Internet REIT acquires, develops and sells internet traffic "wholesale" to Google for them to resell to others on a "Pay-Per-Click" basis.

He is featured in the Guinness Book of World Records for the most expensive domain name ever sold.

He currently owns and operates massive ecommerce websites including eTickets.com, CuffLinks.com and SummerCamps.com.

His company Blinds.com, generates $65 Million a year selling window blinds and window coverings on the Net.

He founded five high tech Internet and telecommunications magazines and a dozen technology trade shows, which he sold for $8,000,000. He then created and sold Multimedia Publishing Corporation for $35,000,000.
... There's a good reason why this rogue entrepreneur has been called "The Technology Wildcatter" by the Houston Business Journal.
To learn his real identity, keep reading...
Agent:
Your Presence is Requested in Washington, DC For The Dates of March 3-5th, 2011.
Your Mission: Join Our Superstar Rogue
Marketing Agents For 3 Days of Intensive
Tactical Training In Internet Profit
Capture and Covert Marketplace Domination
at the TOP SECRET:


Seminar Highlights For 2011 Are Set To Include:
17 totally under-the-radar presenters sharing *brass tacks* secrets for making millions online WITHOUT selling "how to get rich online" schemes. (DEFINITELY NOT the usual suspects you see everywhere else.)
The online marketing, networking and deal-making event of the year. The audience is packed with 6-figure, 7-figure, and 8-figure+ income earners.
THE place to get the latest intel on social media, PPC, Google marketing, SEO, joint ventures, affiliate marketing, email marketing, multi-media and MORE!
This Year Is Going To Be Another SELL OUT!
Every year since I held the first Underground® Seminar, more than 70% of seats have been claimed by agents who attended during a previous year.
In fact, here is a photo of just PART of the sold out crowd from Underground 6…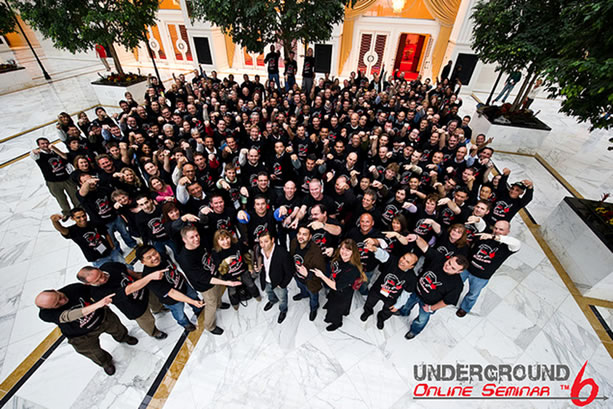 Understand that in any given year, only roughly 30% of seats are actually up for grabs!
Because you're racing the clock to beat a loyal following of agents who have:
ALREADY attended a previous Underground® Event…
ALREADY added serious profits to their bottom line using intelligence they
gathered during previous years…
ALREADY booked their flights, without even *knowing* who will be speaking yet…
Their presence at Underground® is a forgone conclusion because they know from experience:
Underground® Draws A Caliber Of Speakers
Unlike ANYTHING You've Seen At Any Other
Internet Marketing Seminar… EVER BEFORE!
Forget about the pitch-fests you may have attended previously.
You won't see any selling from stage at an Underground® Seminar.
Because the speakers I recruit are NOT the typical info-marketers you'll find peddling their wares on the annual seminar circuit.
No, the guys who hit the stage at Underground® are the rogue superstars of Internet marketing:
They're typically hidden away behind businesses you've never heard of, quietly making their millions using everything from:
Dead-simple, cost-effective but LITTLE KNOWN marketing tricks that, thanks to their extensive testing capabilities, have put them on the leading edge of their markets, to…
Highly sophisticated marketing strategies, sales funnels, traffic secrets and moneymaking blueprints that the rest of the world has NO CLUE even exist yet!
Dragged away from their REAL passion (their businesses) these people typically agree to appear at Underground® ONE TIME ONLY, where they lay it all on the line.
Meet the REAL Internet Millionaire Makers:
"A-type Overachievers" is an accurate description of most of these guys.
So they usually hit the stage with a chip on their shoulder and something to prove:
Giving you a once-in-a-lifetime opportunity to walk in their shoes and venture to the cutting-edge of their million-dollar businesses to:
Learn the secrets that are lining their pockets right now…
Gain a comprehensive understanding of HOW they're doing it in layman's terms…
Walk away with a step-by-step blueprint of their most closely guarded secrets
(that you'd be DANG hard-pressed to find published ANYWHERE!)…
… So you can confidently venture out into ANY online business, in ANY industry and apply what you've learned for a measurable increase in traffic, sales, and market share.
To see what I mean…
Watch This Video Interrogation of Agents
Who Attended Previous Underground Events:

Meet The Rebels, The Pioneers and The Trendsetters
Who Are Shaping The Next Phase of Internet Marketing:
Yes, this is what makes Underground® so unique, with such a loyal fan base: It's my 7-year commitment to seeking out the real doers of the online marketing world.
By reaching deep into my 10+ year contact list that crosses every market space you can imagine, I'm able to uncover the little-known rainmakers of online marketing…
… So you finally have an opportunity to learn from the REAL marketing rebels, pioneers, and trendsetters who are shaping the next phase of online marketing.
And make no mistake: I always aim to fill the stage with the widest cross-section of entrepreneurial geniuses you'll ever meet.
From niche markets you've NEVER heard of to highly competitive industries like fitness and dating,
I locate "the doers."
These Are Guys Who Don't Give A Rat's
Behind About Earning "Speaker Fees"!
Obviously, when you're making millions from your business, being offered a small speaker fee verges on insulting.
So persuading these rogue entrepreneurial superstars to attend has become an art form that involves charm, arm twisting, peer pressure, bribes, appeals to ego – you name it, I've probably stooped there.
(Get your mind out of the gutter! ;-)
But make no mistake:
I accept NO second-rate speakers.
To hit the stage at Underground® 7, these guys must hit all the checks of my 5 point test:
Qualification #1: They are relatively unknown people who are actually making money online, but are NOT on every "seminar circuit" peddling their wares. No theory and hype just tried and true verifiable and validated Internet success strategies.
Qualification #2: No one making the bulk of their income by selling information on how to make money. They have to be able to actually make money from a real product or service before claiming guru status. (That means they can't be a "shovel seller").
Qualification #3: They had to be able to teach their methods. (Some people are terrific doers but they cannot convey their knowledge into concepts others can use and understand.)
Qualification #4: Their methods must work and be replicable today by people who are not "super marketers" or "super geeks."(Plus, their success can't be founded on methods that worked once 2, 3 or even 8 years ago when Internet marketing was still in its infancy.)
Qualification #5: And finally no B.S.! They can't blow smoke and have no substance.
It's a tall order to fulfill every year, signing a three-day line-up of truly brilliant Internet entrepreneurs who are a good match AND willing to present!
But once again, I'm excited to announce that I've produced a top-rate speaker line-up so impressive that I *still* haven't decided who gets top billing:
The 17 Rogue Internet Marketing Superstars Who Will Be
Leading Your Tactical Training At Underground® 7:
The precise details of each speaker's presentation is still being fleshed out…
(And if you know anything about over-achieving entrepreneurs, you can be certain they'll be pulling the very latest test stats off their servers at midnight the night before they hit the stage.)
But here's a small glimpse at the caliber of speakers who are presenting at Underground® 7: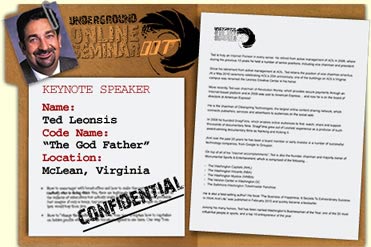 Keynote Speaker #1
Name: Ted Leonsis
Code Name: "The God Father"
Location: McLean, Virginia
Ted is truly an Internet Pioneer in every sense. He retired from active management of AOL in 2006, where during the previous 13 years he held a number of senior positions, including Vice Chairman and President.
More recently Ted was chairman of Revolution Money, which provides secure payments through an Internet-based platform and in 2009 was sold to American Express… and now he is on the board of directors at American Express!
He is the Chairman of Clearspring Technologies, the largest online content sharing network, which connects publishers, services and advertisers to audiences on the social web.
In 2008 he founded SnagFilms, which enables online audiences to find, watch, share and support thousands of documentary films. SnagFilms grew out of Leonsis' experience as a producer of such award-winning documentary films as Nanking and Kicking It.
And over the past 20 years he has been a board member or early investor in a number of successful technology companies, from Google to Groupon.
On top of all of his "Internet accomplishments", Ted is also the founder, chairman and majority owner of Monumental Sports & Entertainment, which is comprised of the following…
The Washington Capitals (NHL)
The Washington Wizards (NBA)
The Washington Mystics (WNBA)
The Verizon Center in Washington DC
The Baltimore-Washington Ticketmaster franchise.
He is also a best-selling author! His book "The Business of Happiness: 6 Secrets To Extraordinary Success In Work And Life" was published in February 2010 and quickly became a bestseller.
Among his many honors, Ted has been named Washington's Businessman of the Year, one of the 20 Most Influential People in Sports, and a Top 10 Entrepreneur of the Year.
(Click Here To Get More Intel On ALL The Rogue Agents Coming)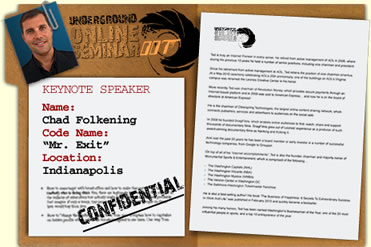 Keynote Speaker #2
Name: Chad Folkening
Code Name: "Mr. Exit"
Location: Indianapolis
Here's a guy who truly knows how to start, grow
and sell wildly successful eCommerce businesses:
Chad is the Founder of eCorp.com and Global Ventures, LLC a technology-based venture development, advisory and investment group established in 1996.
Chad successfully founded and sold such websites as Webex.com, Tagged.com, CafeWorld.com, PartyOnline.com, and DigitalPoint.com.
With 15,000 premium Internet domains in his portfolio you will want to pay VERY close attention when he shows you...
The nuts and bolts of domaining and how anyone can leverage the domain channel to start adding incremental revenue to your business today!

Value Creation: How he turned a $10 domain into $100,000 in profits... with zero effort. If you can do this once a month and you can easily earn a million dollars per year.

Valuation of Domains: Learn how to quickly determine how much you can sell a domain for before you invest a penny in it... this is the "zero risk" domaining system!

How to use domains to start capturing targeted traffic for a fraction of what you are paying now... and this traffic WILL convert better then search traffic.
(Click Here To Get More Intel On ALL The Rogue Agents Coming)
Keynote Speaker #3

**JUST ANNOUNCED**
Name: Marc Ostrofsky
Code Name: "Get Rich Click"
Location: Houston
Marc Ostrofsky does much more than teach others how to make money online. He actually does it.
His list of accomplishments include...
Marc has founded, owns or is involved in many highly profitable websites such as CuffLinks.com, eTickets.com, SummerCamps.com.
His company Blinds.com generates $65 Million a year selling window blinds and window coverings and was ranked #186 on the Internet Retailer 500, and was the 10th fastest growing site on the list.
Marc is the owner of hundreds of premium and generic domain names, including MutualFunds.com, Bachelor.com, HeartDisease.com, and Photographer.com.
He helped create the domain name "resale" marketplace and is known for selling the domain name "Business.com" for $7.5 Million - making it into the Guinness Book of World Records.
Marc is also one of the founders of the Private Pay Phone Industry, the Private Operator Services Market, and he created the Prepaid Phone Card industry.
Renowned as a "technology wildcatter" and "serial entrepreneur," Marc has appeared in hundreds of media outlets, including The Today Show, ABC's 20/20, The Wall Street Journal, The New York Times, and USAToday.
So when Marc takes the stage at the Underground® 007 you'll want to pay close attention because he's promised to reveal some of his most coveted business start-up and fast-growth strategies that YOU can start applying to your Internet business immediately.
(Click Here To Get More Intel On ALL The Rogue Agents Coming)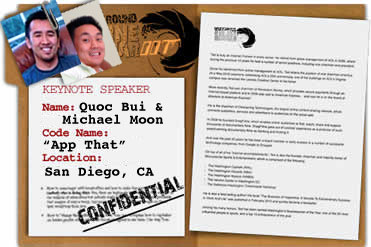 Name: Quoc Bui & Michael Moon
Code Name: "App That"
Location: San Diego, CA
How do two 26-year-old guys start and maintain an $800,000 per year business with limited resources and only a few hours a week?
Quoc and his best friend Michael did just that as founders of "Free The Apps" as well as multiple other iPhone App companies including Hipposoft, Pici App, and more.
They've gone on to generate over 18 million downloads across more than 20 applications in the iTunes App Store in less than 18 months… they've been featured in the New York Times… and they've significantly reduced their working hours.
These guys have truly cracked the code for making profitable iPhone and iPad applications!
And during this exciting presentation, Quoc and Michael will be revealing how you can turn YOUR ideas into profitable apps -- without ANY programming experience.
They'll walk you through, step-by-step, exactly how to find low-cost, high quality developers to create your apps for you. Quality information from one of the most successful app companies operating on the Web today!

(Click Here To Get More Intel On ALL The Rogue Agents Coming)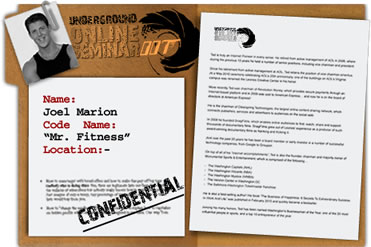 Name: Joel Marion
Code Name: "Mr. Fitness"
Location: Burlington, NJ
Million-dollar product launches are almost commonplace now, right? Just sell 501 products at $1997 and you're there. Or maybe 1002 at $997.
But what if your product is less than $100, can it still be done? YES!!
Joel came out of nowhere and did the very first million dollar launch in the fitness info-marketing industry -- selling $1,400,000 worth of a $67 product in just 1 week!
He'll share his compressed "fortnight launch formula" that made it happen.
(Click Here To Get More Intel On ALL The Rogue Agents Coming)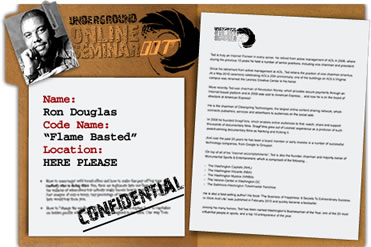 Name: Ron Douglas
Code Name: "Flame Basted"
Location: Kew Garden Hills, NY
Go tell your family and friends you're going to make money selling digital cook books online -- what reaction will they give you? Probably raised eyebrows and questions about your sanity!

But Ron sold over 52,000 book and ebook cookbooks online through Clickbank, and then another 850,000+ cookbooks through his publisher.
So you will want to pay attention when he shares with us exactly how...
How he went from ebook publisher to NY Times Best Seller by scoring $5.8 million in free advertising from the media
How he grew one website to over one million views per month with user generated content
How he built an email list of 270,581 subscribers using free traffic
How he got 144,916 backlinks to a new site in under a year without spending any money
The social media content syndication system he uses to generate an extra 6-figures a year in passive income
(Click Here To Get More Intel On ALL The Rogue Agents Coming)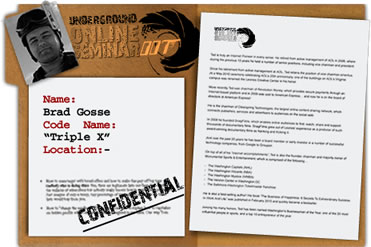 Name: Brad Gosse
Code Name: "Triple X"
Location: Mono, OH
Brad once owned the #1 ranking for a major adult keyword. (Probably the #1 searched term for that entire industry.) Now I've never sold anything in that space, but I can appreciate how DIFFICULT it must be to get a #1 ranking for that word!
Brad's going to show us how he's been able to take the cutting-edge "pushing the envelope" online marketing strategies of the adult industry and apply them to mainstream business.
(And don't worry, he'll keep his presentation family-friendly!)
(Click Here To Get More Intel On ALL The Rogue Agents Coming)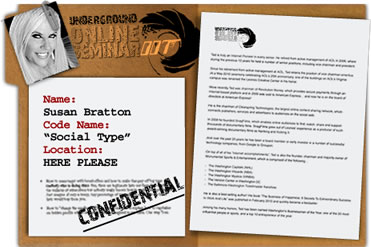 Name: Susan Bratton
Code Name: "Social Type"
Location: Los Altos, CA
A serial entrepreneur with Silicon Valley start-up chops, Susan sits on the boards of a number of technology companies and is a founder of two industry associations.
She is co-founder and CEO of Personal Life Media, a technology provider of automated platforms for information products, publishing nearly 20 direct-to-consumer personal and professional growth product lines.
Get savory insights from both sides of the Internet "world" — she'll reveal what boot-strappers like us do better and what the VC-backed industry has figured out that we can learn from them.
(Click Here To Get More Intel On ALL The Rogue Agents Coming)
Remember: You'll have COMPLETE access to speakers before and after presentations – to ask questions, get clarification and enjoy further instruction.
This is NOT one of those seminars where speakers vanish into the night when they're done; these guys have agreed to stick around.
Which means you'll also enjoy…
Prime Networking And Joint Venture Opportunities!
The Underground® Seminar consistently draws an extremely high caliber of entrepreneurs which has led this event to become known as one of the best networking sessions for Internet entrepreneurs in the world!
In fact every year, I am shocked by how many Internet marketing geniuses who have ALREADY made their fortunes online are sitting in the audience, taking notes along with everyone else.
And because we work so hard to make this a fun and open environment, I receive feedback every year from attendees who are SHOCKED by how open everyone was to talk and share ideas.
Plus the number of joint ventures that take place is absolutely staggering!
I would venture to guess that millions of dollars in sales have been generated directly as a result of the joint ventures that have taken place at Underground®.
A World-Class Vacation Resort Destination
Becomes Your Training Ground:
Choosing a venue that is suitable for such a high caliber crowd of entrepreneurs is extremely important to me. Not only does it need to have a top notch conference facility, it also needs to be fun and that is why we will be holding the Underground® 7 at the:

To say this place is cool would be an understatement:
This place is like a city within a city!
Located right across the Potomac River from the nation's capital, the Gaylord National contains six restaurants, clubs and pubs, a spa and massive fitness center, pool and is surrounded by history.
In fact, when we held Underground® here previously, many attendees chose to bring their family just
to hangout and make it a vacation! This place is that cool.
Mark Your Calendars For March 3-5th, 2011

(Early Registration Begins March 2nd, 5-8 p.m.)
After receiving feedback from attendees for the past few years, we have changed the dates up a little. Normally we would hold this event from a Friday to Sunday. But at the request of past attendees we have shifted the dates to run from Thursday to Saturday.
This will allow you time to travel home on Sunday and hit the ground running on Monday!
So here is the tentative schedule for the upcoming Underground® 7 Seminar:
Thursday, March 3rd
7-9am: Registration
9am-5pm: Intensive Training
6pm-8pm: VIP Dinner
Friday, March 4th
9am-6pm: Intensive Training
8pm-10pm: Bonus Session
Saturday, March 5th
9am-5pm: Intensive Training
5-5:30pm: $10,000 Check Awarded To Underground Speaker of The Year
Still Not Sure Underground® 7 Is
"Right" For You? Consider This:
If you are running a business on the Internet or even thinking about it, I could go on forever about why you need to attend this event.
Here are just a few of the reasons…
If you need new and unconventional ways to get more cheap and free traffic to your website
(and who doesn't?) you need to come to Underground® and learn what is working TODAY.
If you want to learn the conversion tactics from websites that are absolutely killing it (I am talking 20
to 30 times the industry average) then you should be here.
If you are already making good bucks on the net and are ready to take your business to the next
level, you need to come to this event and talk to the entrepreneurs that are already there… and learn
exactly how they did it.
If you are watching the social networks and wondering how the heck you can make money from these
dang things, you need to come to this event and meet the guys that are already capturing swarms of
targeted traffic from them.
If you have never successfully bought profitable ads online then you are missing out on a ton of
sales and you need to come to this event.
If Google has become your nemesis, denying you the listings you need to dominate the 'free traffic
giant' then you need to come to this event.
Even if you have yet to make a penny online and are still kinda confused as you sift through all the BS
and scams, but know deep down that if you could just get the 'right help' you could make it
happen… then you definitely need to be at this event.
… And really I am just scratching the surface.
With enough time I could easily come up with at least 100 reasons why you need to join us at Underground® 7.

I have always been a big believer in rewarding decisive action. So if you reserve your seat before
February 15th, 2011 at midnight…
I'll slash the entrance fee of $3495
by a massive 29% to only $2495


None, Thanks To My 100% Moneyback Guarantee...
At the end of the first day if you don't believe what you've discovered is pure moneymaking gold or you do not want to stay for the whole event or you are disappointed in any way, for whatever reason, just discretely turn in your Secret Agent dossiers and your materials to one of our staff members. Say the code word "SPY" and you can leave with a full refund of your tuition. Plus I'll give you $250 for your first night's hotel and expenses.
(This applies only to the primary registrant)
History Is ALREADY Set To Repeat Itself: Underground® is already on its way to SELLING OUT for the 7th year in a row!

Will YOU be among the disappointed?
Or, are you ready to join the roster of loyal agents who have ALREADY experienced the profit magic that comes from attending an Underground® Seminar and applying the tactical intelligence to your own business?
Join us, won't you?
I'd love to put a face to your name… (Or meet again for another brainstorming session!)
Register now, and I'll see YOU on the inside!